Hirzt CNC drill 3388.
Drilling machine with electronic programming of drilling head positioning, with other programmable, electronic positioning of drilling height, with independent spindles, with program operation control.
It is possible to perform different lines of the spindle group, with holding with axial movement of the drills.
Closed guards with an attachment for centralized extraction of waste air and sawdust enable operational safety.
Ability to work at a constant step of 32 mm and program 99 programs in memory, at a step of a millimeter.
Gradual transition from horizontal drilling to vertical drilling with a pneumatic system, with programmed reference stops.
The transition from horizontal or vertical drilling to transverse drilling for shelves is fast with always mounted guides, and millimeter programming is used for this procedure, which makes the process high quality, because it drills only at the necessary points. This allows drilling at an angle of 45 °, even narrow pieces, without limiting the average distance between the holes using a millimeter program. Drilling of all types of hinges is done without the use of aggregates. Machining is also programmed in versions 2 and 4, and drilling continues in one pass, without changing tools.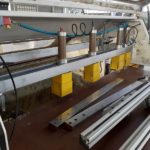 Productivity
Processing that can be done in one pass without moving the plate and without replacing the tops, productivity is doubled compared to traditional machines. This machining is performed in one drilling phase in versions 2 and 4, and in versions 1 and 3 with double pass.
Pendulum machining
Alternately, the pendulum system replaces the already drilled panel with a new one, while the machine runs the next panel without interrupting the duty cycle.
Precision
DC motor with axial reducer and spindle group position control, with high resolution encoder. Corrected reinforced guides are placed on a larger structure, which is normalized and stabilized, thus making the mechanical structure rigid and precise over time. Guide sizes are easy and precise to read. Several tools (3) of the economic machine as buying changes (tips). Punto OK also processes traditional drilling machines as well as hinge drilling machines, which makes the investment for Punto OK lower than for traditional machines.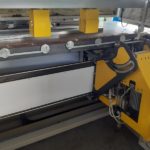 Hirzt CNC drill 3388 is from the manufacturer Hirzt, model PUNTO OK.
Maximum drilling distance: 928/1120 mm.
Spindle speed (No. 3): 8000 g / 1 '.
Spindle motor power: 1.5 hp.
Drilling depth: 50 mm.
Max. drilling diameter: 35 mm.
Max. height in horizontal position: 35 mm.
Positioning speed: 30 mt/min.
Program step 32 mm: № 99.
Variable height program: № ° 99.
Maximum piece length: 3000 mm.
Pneumatic pistons: 4. pcs.
Compressed air consumption: 200ni / min.
Suction port diameter: 80 mm.
Machine dimensions: 1900 x 1750 x 1650 mm.
Net weight: 770/880 kg.
Used , imported from Italy.