Automatic Panel Saw 3014-20 is made of tubular welded normalized steel which guarantees rigidity + stability and high-quality cut. The carriage is anchored to the machine bed by means of two sliding guides, one of which is cylindrical for straightness, and one flat for constant perpendicularity of cut.
A robust torsion bar connected via through rack and pinions, at the extremities of the pressure beam, guarantees the parallelism of the worktable. In this way, a uniform pressure is ensured along the entire cutting line, under all working conditions.
The powered pusher effects longitudinal cuts automatically. Movement by means of a robust torsion bar with rack and pinions guarantees constant parallelism in respect of the cutting line.
Flangers for rapid blade locking
This is patented system which allows blade substitution without the need of spanners, but simply by using compressed air with the following advantages for the operator – safe and practical locking, and rapid blade substitution.
The hydraulic variator
It enables the selection of the saw blade carriager speed, according to the type of material to be processed. Adjustment is manually effected and continuous from 0 to 30 m / min. The carriage return speed is 40 m / min.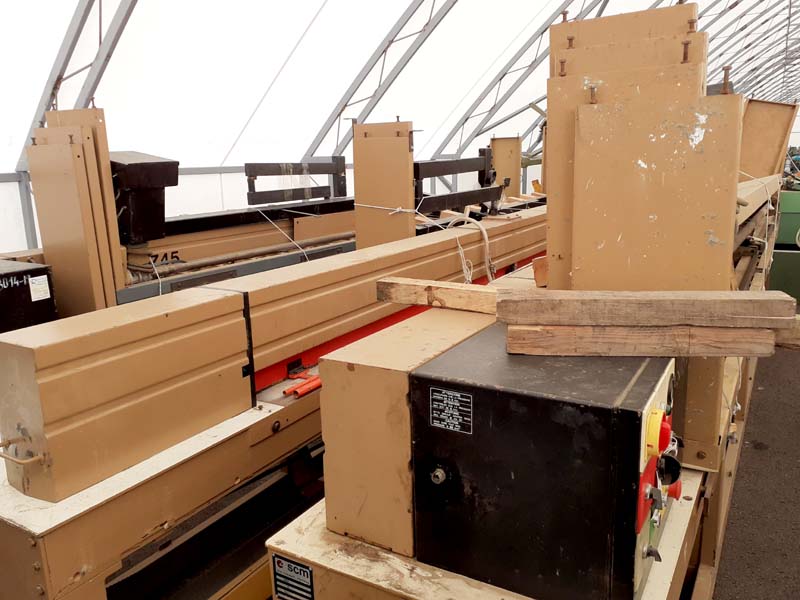 Automatic panel saw 3014-20 – Technical data:
Brand: SCM, model Z.45.
Engine power: 10 hp.
Saw blade speed: 3700 rpm.
Pre-cutter speed: 8000 rpm.
Pre-cutter engine power: 1.5 hp.
Maximum cutting length: 4450 mm.
Maximum depth of cut (with saw blade Ø 350 mm): 90 mm.
Cutting capacity of the hand pusher: 1300 m.
Cutting capacity of reinforced pusher: 2100 m.
Push speed: slow 0.2 m / min, or fast 3 m / min.
Dimensions of the main saw blade: Ø 350 x 30 mm (shaft).
Pre-cutter diameter: 150 mm.
Dust extraction capacity: 1200 m3 / h for each outlet.
Total weight: about 2500 kg.
Used, imported from Italy.