Scissors Corali M-66.
Two-blade veneer scissors, designed for veneer cutting.
Brand: Corali, Model M-66.
Specifications:
Max. veneer thickness: 10 mm.
Min. veneer thickness: 0.5 mm.
Max. work width: 900 mm.
Min. work width: 15 mm.
Max. work width: 150 mm.
Productivity: 120-400 pcs/min. Engine power: 1.8 KW.
Machine dimensions:
-Height: 1320 mm.
-Width: 1650 mm.
-Length: 2950 mm.
Weight: cca 1500 kg.
Used, imported from Italy.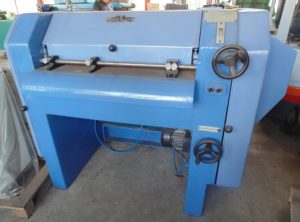 Scissors Corali M-66 is located in Macvanska Mitrovica, at Žarka Vučinića Street no. 32B (part of the city of Sremska Mitrovica), Serbia. The machine is in good condition and can be tested in operation. Transportation is carried out at the expense of the client, and after purchase in our company, the veneer shear will be loaded free of charge on the client's transport vehicle.